Maid cafes have been popular for quite some time, but if you're not familiar with the setup, it's rather simple. Beautiful Japanese women take your order in full maid outfits and call you master. Some cafes offer photographs, conversations, and hugs with the maids, but nothing over the top most of the time. This cafe is a little different, as you can see the maids will gladly kick you, so who gets the benefit here? Let's see!Located in Nipponbashi, Osaka, this maid cafe goes by the name of
Cafe CC Ocha
. This cafe varies greatly from the rest of the frilly dressed waitresses out there, because so far, this is the only maid cafe that allows you to order an ass kick.The cafe gained popularity quickly and eventually found its way onto Japanese television, which demonstrated its services to the public. So how exactly does this work? Well if you're willing, you will shell out 1,800 yen (US$15), then you will get on all fours and the maid will begin shouting at you and calling you names like "you are a hentai!", and "You're creepy!".
She will then continue on with her false anger and kick your butt, sometimes to the floor, depending on which maid you get and how angry she pretends to be.
Supposedly the kick isn't too hard according to Koji Higashino, an actor and comedian who was kicked on the TV show
Gobu Gobu
, but who knows, she might've been going easy on for the sake of the show..gasp!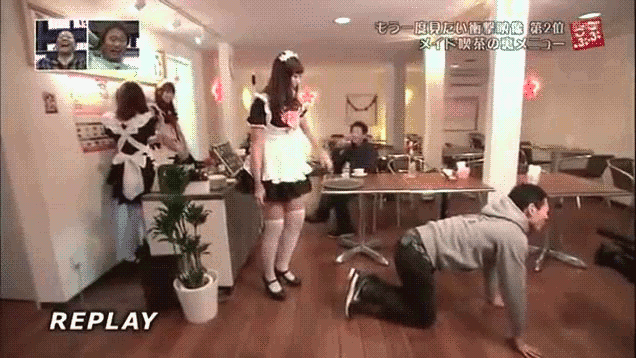 Best reaction ever..
Here is a list that shows the staff of CC Ocha. Which girl would you want a kicking from? Is it just me, or does anyone else get the feeling that the last girl in this set would kick without limitation..
You even get a memorandum in the form of a photo to keep in your room or in your wallet so you can show and tell all your friends how you paid 15 bucks so a maid could kick your butt..
Probably something you'd likely do with a group of friends for a good laugh. Can't quite say I wouldn't be willing to do so just for the humor of it. That is, if someone else paid that hefty 15 bucks, but then again my pride would be diminished greatly on all fours.. I'll have to process this one.So it seems that the benefit of this service goes towards guys with creepy fetishes or groups of friends for a good laugh. What is your stance on this butt kicking maid cafe?Address: 2-4-8 Nanbanaka, Naniwa-ku, Osaka Prefecture 556-0011, JapanHours: Weekdays 3:00pm – 9:30pm, Weekends and Holidays: 12:00pm – 9:30pmClosed 2nd and 4th Tuesday each month (if a holiday then the previous Monday instead)Website:
http://www.ccocha.com/
Article reproduced from JapanRealm
http://www.japanrealm.com/butt-kicking-maid-cafe/